As a boy growing up on the Eastern Shore of Maryland, in what was at that time known as the little town of Salisbury, I can recall the good times that we had as a family gathered around the family table.
The family table that we had was not very big, but it was big enough to hold the plates of mouth-watering victuals that were prepared and set before us by the loving hands of one who loved her family dearly. Around the table there were enough chairs for mom, dad, and the four kids to sit down and break bread together. We did not always have a lot to eat, but we were thankful for that which we had. I was forever amazed at how my mother was able to take so little and turn it into a delicious feast for her family. I cannot recall a single night when there was not enough to eat and any of us had to go to bed hungry.
Throughout the years many other family members and visitors were to sit at the family table and partake of the wonderful meals that were prepared, and somehow there was always just enough to feed everyone. Of those who sat at the family table, the ones who graced us with their presence the most were the women in our family. With the passing of time, some of those women who once blessed us with their presence are no longer able to join us at the family table. I can think of three of those special women in particular who had a tremendous influence on my life.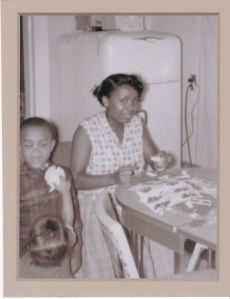 The picture above is from my childhood days. My mother is seated at the kitchen table.
The first to vacate her chair at the family table was my beloved mother, Frances Mae Harmon Brown, who passed away on 12 June 1997 after a battle with breast cancer. Even in her illness, when it was clear that she was tired and weak, she was determined to prepare meals for her family as she had always done.
At the time that she became ill I was on active duty in the Navy stationed thousands of miles away in the country of Iceland. I was able to take 30 days of leave from the military and went home to spend those days with her. I can recall that on the last evenings that I was at home, I walked into the kitchen and there she was preparing homemade chicken and dumplings which was one of my favorite meals. I could tell that she was really tired and not feeling that well, and I even mentioned to her that she did not have to go through the trouble just for me, but she knew that it was one of my favorite meals and she wanted to prepare it for me. That would be the last time that I was to have any of my mother's homemade chicken and dumplings, and without a doubt, it was one of the best meals that I ever had that were prepared by her. I miss those wonderful meals that she used to prepare, but most of all, I miss the times that we spent together sitting at the family table.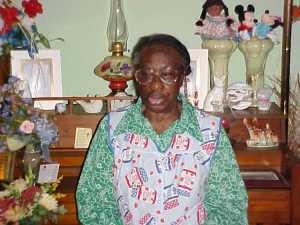 The picture above is of my maternal grandmother (adopted) Nettie C. Lilliston. This picture was taken at her home circa 1996.
The next of the special women to be missing from the family table was my dear grandmother, Mrs. Nettie C. Lilliston, who passed away on 15 April 2007 from chronic obstructive pulmonary disease. She was only 17 years old when she adopted my mother as her own, and so, even though she was not my real grandmother by blood relation, I still lovingly referred to her as mom-mom.
Not only was it a blessing to have her in our home from time to time, but it was also a real joy to visit with her in her home and sit at her family table and partake of the delicious meals that she would prepare for us. She also made homemade cakes, of which my personal favorite was coconut, and especially at Christmas time, she would make homemade candies for us to enjoy. Usually on Sundays after morning church services, we would go to mom-mom's house for dinner, or if we were going to an afternoon service and there was no time for dinner, she would prepare something to tie us over until later. After my mother passed away, I received a letter from mom-mom stating that so many children forget about their grandmothers, but she was grateful that my siblings and I had not forgotten about her.
On Thanksgiving Day in 2005 I was blessed to have my grandmother come and sit at my family table and enjoy thanksgiving dinner with my two sisters, my nephew, and myself. I can also remember the last Thanksgiving meal that I had at her house. It was clear that she was not well, but her "children" had come to spend Thanksgiving with her. Even though we had told her that she did not need to prepare anything, by the time we got to her house she had prepared a feast of fried chicken, sweet potatoes, chicken and dumplings, rolls and other things for us to sit at the family table and enjoy. I truly miss the times that I spent with my grandmother, especially the conversations that we used to have as we sat around her family table.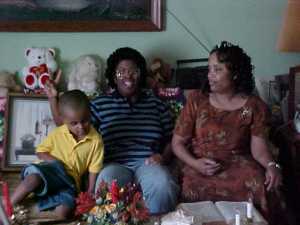 The older of my two sisters, Sharon Christine Brown Bratten (seated on the right), my younger sister Patricia seated in the middle, and Sharon's son, Rossie Alfonze Bratten IV, seated on the left. This picture was taken circa Christmas 1996.
And then, there is my dear sister Sharon Christine Brown Bratten, who has been under constant doctor's care for over four years, since 12 April 2010, after suffering major complications from a routine procedure that she was having done. After our mother passed away, Sharon made it one of her personal quests to do whatever she could to keep the family together and to keep family traditions alive. Especially at holiday times, she would open her home for us to come and spend time together and to even partake of a meal at her family table. For the meal she would always lovingly prepare some of the same foods that our mother and grandmother would have prepared if they were with us, to include homemade sweet potato pie for dessert.
During and after dinner we would converse about many things including days of yesteryear, and we would share some of our precious memories of those days. My nephew, who is now 15 years old, would also be at the table and his parents, uncles, and aunt had the pleasure of schooling him about how things were when we were growing up and his age. Later in the evening we would spend time playing games and watching movies together. How I truly miss those special times, especially the times that we spent together seated around her family table.
Through the years we have been blessed as a family to be able to come together and enjoy some good times. As family members are no longer able to join us because of death or illness, our hearts and minds are filled with wonderful memories of each of them that we will forever cherish. And many of those precious memories were made while sitting at the family table.